Meet Our Donors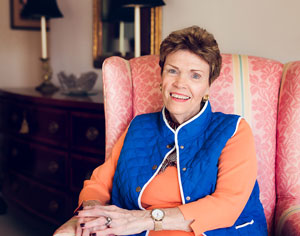 Legacy Donor Who Defied All Odds
Born with athetoid cerebral palsy affecting movement along the entire right-hand side of her body, Jane Terrell Neer made her first trip to Baltimore for an appointment with Dr. Winthrop Phelps in 1941, when she was just a month old. Jane's father, a prominent surgeon in Richmond, Virginia, wanted only the best for her.
And so did Dr. Phelps, who in 1937 had founded the Children's Rehabilitation Institute, later Kennedy Krieger Institute. As a child, Jane made monthly trips to Baltimore to see Dr. Phelps. He was like a second father to her, "always encouraging me to live my life to the fullest."
As Jane grew, she learned to pick herself up—literally and figuratively—on her own. As a young adult, to both her and Dr. Phelps' delight (but to the horror of her mother!), Jane learned to ski. Early on, Dr. Phelps told her that because her cerebral palsy condition was mild, others wouldn't necessarily understand how difficult it was for her to do certain tasks. Jane has always been grateful to Dr. Phelps for explaining that to her.
Throughout Jane's life, Dr. Phelps—and later his successor, Dr. Charles E. Silberstein—have been there for her. Neither one ever told her she couldn't do something. In 1992, following Dr. Silberstein's advice, Jane underwent a total hip replacement. After recuperating, she threw a "Hip, Hip, Hooray" party, and Dr. Silberstein and his wife travelled all the way from Baltimore to Richmond to attend, something Jane's never forgotten. Dr. Silberstein also oversaw Jane's month-long therapy "boost" in 2011, when Jane traveled to Baltimore every other weekday for physical therapy.
Recently, Jane made a commitment to leave a legacy gift to support cerebral palsy research, making Jane a member of the Winthrop Phelps Legacy Society, a group of donors who have chosen to include Kennedy Krieger in their estate plans. "I just wanted to give back to Kennedy Krieger for the wonderful care Dr. Phelps and Dr. Silberstein provided," she says. "I don't think I could have made it without them. They were just the perfect doctors for me."
Thank you, Jane. Your generous support will help us continue to transform lives.